Orange County Wedding Limousine Services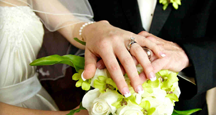 Congratulations on your upcoming wedding! Your wedding day will likely become one of – if not the most – memorable days of your life. Let 5 Stars Limousine make it that much better! Our limo services are designed to provide you a fun and relaxed wedding day through cleanliness, timeliness and affordability. We know how big this day is to you, and how stressful it can be. Let 5 Stars Limousine reduce your stress and get you to and from your destination in one of our many limousine options listed below. Whether you have a small party under 10 or a group up to 36 – we have a limousine for you!
We have a limousine perfect for your wedding day:
Lincoln Town Car Limousines (For up to 10 passengers)
Chrysler C300 HEMI Limousines (For up to 12 passengers)
Cadillac Escalade Limousines (For up to 22 passengers)
H2 Hummer Limousines (For up to 24 passengers)
Party Bus Services (For up to 36 passengers)
To learn more about our wedding limousine services, please call us at
888-418-2374
to request your free quote. We look forward to serving you on your special day!
Our limos are perfect for bachelor and bachelorette parties too!