Orange County Party Bus Service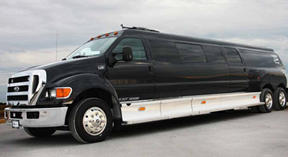 Looking to party hard in the Orange County/San Diego/Los Angeles area? Call 5 Stars Limousine! Our party buses are designed with fun in mind so you can get safely to your destination and celebrate all along the way. Our party buses can accommodate parties up to 36 people large, so there's plenty of room for everyone to have a good time. Don't need such a big ride? Check out our Hummer limousines (up to 24 passengers) or Escalade limousines (up to 22 passengers). Whatever the size of your party, 5 Stars Limousine in Orange County has a party bus for rent to get you where you need to go!
Our party buses are perfect for:
Whether you have an upcoming birthday party or perhaps a bachelor's party, the 21st century has offered a whole new way to get around and enjoy the event: with a Party Bus. If you are getting ready to indulge in a fun night on the town with your closest friends, we have everything you need to make the most of it as you travel from one venue to another with our accommodating and entertaining party bus rentals. The staff here at 5 Stars Limousine Services is here to meet your every need and ensure your upcoming party is one that will keep your friends talking for months to come.
Responsible Way to Have Fun
If your upcoming Orange County area party will involve alcohol, our party bus staff offers a way for everyone to be included without having to designate a sober driver. The cost of a DUI is expensive, not to mention the dangers posed both to yourself and others. Our party bus drivers are licensed and professional, and they will take care of the transportation. It's the same service as a limousine, just bigger. Best of all, they will be able to get you where you need to go, and they will keep your itinerary in mind as they help you and your friends navigate the city, leaving you to sit back and fully enjoy the evening.
With You From Start to Finish
When you book your Orange County party bus, you can rest assured that we will be with you every step of the way. From our front door service to a safe and reliable drop off at the end of the event, we are here to meet your needs. Our buses are equipped with everything you need to ensure your party doesn't halt when it's time to arrive at a new destination, allowing uninterrupted fun. All you have to do is fully enjoy everything the night has to offer.
To learn more about our party bus rental services in Orange County and the surrounding counties, please call us at
888-418-2374
. We look forward to making your party a memorable one!
Call Now:
888-418-2374